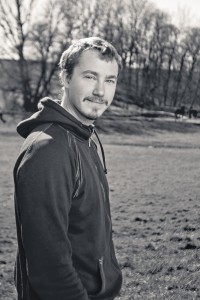 Thomas Pape is an aspiring new filmmaker from Denmark, who has a passion for humour, music and everyday people in extraordinary situations. Besides making movies, he work with sound design on a freelance basis, write movie scripts and opera libretti, and occasionally teach master classes.
In addition to having attended film school in Sweden at Fridhem Folkhögskola, he has a degree in 3D animation from Truemax Academy, and is a certified Windows Server Administrator.
Thomas owns Plain Momentum which is a Danish film production company that have collaborated with numerous production companies such as Nimbus, Blu, MINT, Tre Vänner, Wilhelm Hansen Edition, Den anden opera, Den fynske opera, Esbjerg opera, etc.
Education
2011 – Fridhems Folkhöskolas Filmlinje
2007 – MCSA, Microsoft Certified Systems Administrator
2006 – MSDST, Microsoft Certified Desktop Support Technician
2006 – Truemax 3D Fundamentals
2003 – Matematisk studentereksamen v. Stenhus Gymnasium
2000 – Folkeskolens udvidet afgangseksamen v. Holbæk Lilleskole
Sound
"Et Gensyn" – Kortfilm (2014)
"Bonne Annee" – Kortfilm (2014)
"Adils Krig" – Kortfilm (2014)
"B" – Kortfilm (2014)
"Forestillinger" – Kortfilm (2014)
"La Roche-Posay" – Reklamespot (2014)
"Antboy" – Behind the scenes (2013)
"Jul på gaden" – Julekalender (2013)
"Allnighter" – Novellefilm (2013)
"All Cats Are Grey" – Kortfilm (2013)
"Sammen, hver for sig" – Novellefilm (2013)
"Dronning for en dag" – Kortfilm (2013)
"FUCK (a love story)" – Kortfilm (2013)
"Drengen med trækvognen" – Kortfilm (2013)
"Haderslev High" – TV serie pilot (2013)
"Through The Wormhole" (Season 4) -TV Show (2013)
"CPHBusiness" -Reklamefilm (2012)
"Forbrydelsen III" (10:10) – TV Serie (2012)
"Kærlighedens Laboratorium" (6:7) -TV Show (2012)
"NOW" – Kortfilm (2012)
"Ordinary Day" – Kortfilm (2012)
"Gabriel Klint" – Film Teaser (2012)
"DR's Helte" – TV serie pilot (2012)
"Fragments Of Me" – Film Teaser (2012)
"Mod Naturen" – Novellefilm (2012)
"Nyckelpigan" – Kortfilm (2012)
"Historien om Lantrian" – TV serie pilot (2012)
"Momentum" – Short Film (2012)
"Brukaren o Assistentren" – TV sketch show (2012)
"Ett annat liv" – Documentary (2012)
"4 Reality" – Novellefilm (2012)
"Jobbtjuven" – TV sketch show (2011)
"Mens Verden Venter" – Short Film (2011)
"Judgement" – Short Film (2011)
"Begravning" – Short Film (2011)
"Renskrubbat Folk" – Novellefilm  (2011)
"Göra slut" – Short Film (2011)
"Fest" – Novellefilm (2011)
"SOS Ambulans" – TV sketch show (2010)
"Mamma, Pappa, Barn" – Short Film  (2010)
"German Love" – Short Film (2009)
"För vårt eget bästa" – Novellefilm (2009)
Director
"Jul på gaden" – TV Show (2013)
"Allnighter" – Short Film (2013)
"Huskomponisten" – Documentary (2012)
"The Bakery" – Commercial (2012)
"Greencard" – Short Film (2011)
"Zone 16" – Short Film (2011)
"Deadline" – Short Film (2011)
"Look" – Short Film (2010)
"Zombie Survival" – Short Film (2010)
"Slag 3.0" – Short Film (2010)
"The Pig" – Minute Film (2009)
"Kontroll" – Short Film (2009)
3D & Animation
"Angel Works" – Animated Logo (2012)
"En Pilothistorie – A Hellbent Man" – Short Film (2011)
"Pixel 2011" – Animated Logo (2011)
"Kulturhuset i svalöv" – Motion graphics commercial (2011)
"Stuck in the ice" – Animated Short (2007)