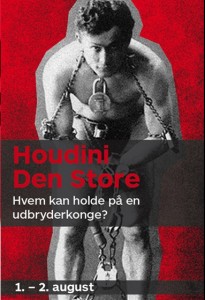 For 20 years the Danish Opera "Houdini The Great" or "Houdini Den Store" has been playing all over the world. Something about the piece just keeps drawing people back, and new people keep joining the continuously growing crowd of fans! The combination of Andy Pape's music combined with the words of Erik Clausen is a thing of magic!
This year the Opera will be playing twice in Copenhagen on the 1st and 2nd August during the Copenhagen Opera Festival, and Plain Momentum will be filming the performance.
If you want to treat yourself to a immortal piece of danish music history, go see it for yourself, or get a copy of the DVD when we are done editing.